As kids growing up in New Mexico, Butch and Donny Olhausen worked for their dad setting up and re-covering pool tables. Their dad had a shop in every house they ever lived in. Little did the brothers know they were learning a trade that would carry them through the rest of their lives.
In the summer of 1969, Butch moved to California. Donny followed three years later. That's when the Olhausen boys started their own company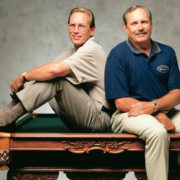 moving and re-covering pool tables. They also delivered new tables for a small manufacturing company in San Diego. They charged $12 to deliver and install a new table, using Butch's classic '59 El Camino and paying for their own gas. What a deal! They could be done with a delivery by 10am. After that, they would go out and pound the pavement for any more work they could find.
Then came what they thought was a great opportunity. The owner of the manufacturing company that they delivered for offered to sell them the business for $1,000 and take a note on the inventory. They took everything they had and bought the company lock, stock and barrel. That's when the world changed for them.
The company they bought was making about 35 tables annually. The first year, their goal was to somehow double the business and sell 70 tables. Within two years, they were selling over 300.
Today, Olhausen Billiard Manufacturing, Inc., sells tens of thousands of pool, shuffleboard, foosball and air hockey tables a year from their 250,000 square foot factory in Portland, Tennessee.
Still family owned and operated, Butch, Donny, their children and all the people at Olhausen constantly pursue a dedication to quality, service, selection and value. These attributes and four generations in the business have earned the company the title of "The Best in Billiards."